Laundry Pro 2.0 by Aerus featuring ActivePure® Technology
Laundry Pro 2.0 combines the power of our revolutionary, exclusive ActivePure® Technology with the cleaning action of water with oxygen based oxidizers to lift dirt and grime away from the fibers of fabric and prevent the growth of odor-causing bacteria. Laundry Pro 2.0 is an amazingly effective cold water laundry system designed for residential use.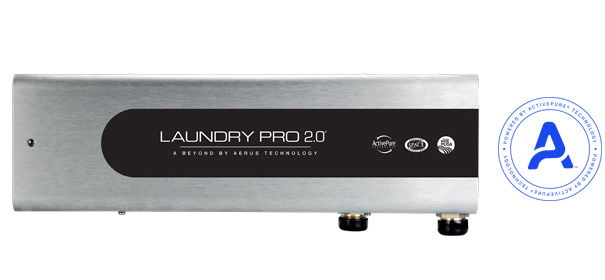 No need for detergent -

Oxygen, peroxides, and other gases bubble into clothing to lift away dirt and odors - Makes clothes softer - Build-up on towels, linens, and your clothes can weigh them down; over time, Laundry Pro lifts old detergents out of fibers, restoring their natural softness

No maintenance -

Laundry Pro requires no cleaning or maintenance to operate at peak performance

Better for sensitive skin -

Laundry Pro also helps eliminate the itching and redness caused by allergies due to detergents embedded in clothing

Whiter whites, brighter colors -

Laundry Pro keeps clothes looking their best with the cleansing power of oxygen

Earth-friendly -

Cold water only and no detergent bottles to throw away make Laundry Pro a better choice for cleaning clothes while protecting the planet.

Easy to install -

Laundry Pro connects to your existing washing machine using standard hoses; no modifications or additional plumbing is required.
Download Brochure